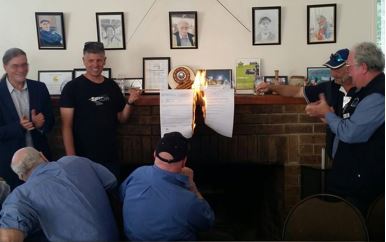 After 12 years of commitment and hard work by the members and the generous support of the wider community, Ballarat East Community Men's Shed has finally paid off the property loan. BECS is fortunate in that it is one of very few sheds that own their premises and are not governed by an auspicing body. It is also unique in the extent of the facilities with three large buildings that offers members numerous activities including woodwork, engineering, automotive servicing, picture framing, photography, gardening, guitar and art groups and social activities.
When the shed was established, the committee scouted around for site and settled on the current site which was originally the Mytton's stainless steel factory. Against the advice of local politicians, the shed's founders committed to buy the site and established a property loan. Thanks to a generous donation from the Percy Baxter Foundation, a loan of $250,000 was all that was required. Members have worked hard to raise funds to meet the repayments. The Mortgage has been discharged in 8 years saving an estimated $70,000 in interest. You need to cook a lot of sausages to pay off a loan of this size!
At a ceremony presided over by Barry Golding - the patron of the Australian Men's Shed Association - and attended by the Shadow Minister for Health Catherine King MP and Melissa Collier - Community Participation Officer, DHHS, the BECS President Allan Davies and the Bendigo Bank Manger - Steve McKee, burnt the mortgage document in front of a cheering crowd of members and supporters of the shed.
The shed launched a new Strategic Plan at the ceremony and now plans to expand support to the broader community whilst reducing the burden on members.