Latest News
It has been a while since we have uploaded information to our web page. The biggest news is that we have received a $30.000.00 grant. WOW. This must say something about persistence. After eight years of existence and countless applications, this is the first significant Government support we have received. Whilst we will not be able to claim we have achieved what we have without support any more – I think we would rather have the money any day. This grant was available through The Victorian Men's Shed Association and administered through The Victorian Governments DHS Department. This "Strengthening Men's Shed Grant" will enable us to refurbish our Nissen hut.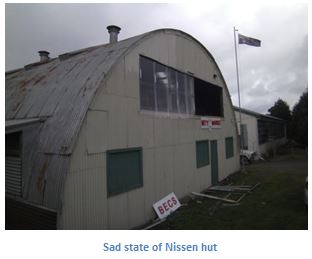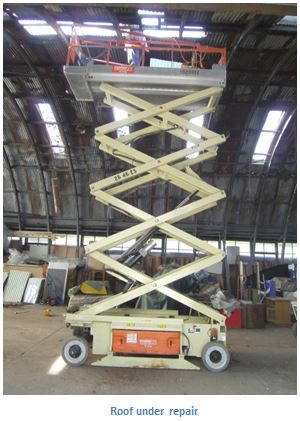 We have already undertaken considerable work to weatherproof the leaky roof with thanks to Coates Hire and one of their scissor lifts. The difficulty with the Nissen hut is that the iron is an American profile which is neither imperial nor metric. If anyone out there can help with spare sheets then give us a call. We still need more sheets for repairing rusty areas.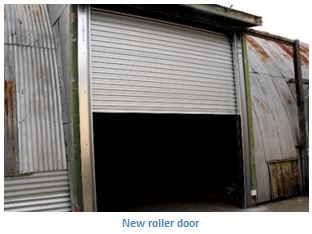 Anyway back to the project. Tasks to be undertaken include –
Relocation of metal workshop,
Installation of roller door.
Installation of 3 phase wiring.
Replace broken windows with lazerlite
Install new lighting and single phase wiring.
Construction of partition walls.
Construct or purchase of storage racks.
Set up inwards goods area and permanent market.
Work on existing wood workshop to include layout, lighting, and assembly and storage areas. Lots of work for our willing workers.
Other than our normal shed activities we have also been developing our rear car park. Following the water supply upgrade which dug up some of the car park we have created a retaining wall, had clean fill deposited and levelled, removed gorse and the fence in readiness for a layer of blue- metal. The recent rain has compacted the surface very nicely and we look forward to its use in the next few weeks. Incidentally the car park upgrade was on our wish list 7 years ago and will now be complete.