On April 24th we had a visit from HMAS Ballarat. Not the ship that's tied up in Sydney but 15 of the crew who were in Ballarat for the Anzac Day service on the 25th.  A bus load of men and women volunteered to come to Ballarat for the service and spent 20 hours travelling to do so.
They would take the same time to return to Sydney on Friday. HMAS Ballarat is an Anzac class frigate launched in 2004 and built in Melbourne.  It has a crew of 175 and has some impressive armaments including a helicopter.  This is the second Ballarat, the first was a Corvette  1940-1947 serving in the second world war and receiving a number of battle honours.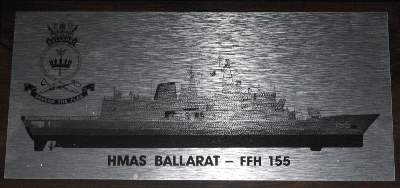 We showed the sailors around the shed and explained what men's sheds are about. No one had any real knowledge of men's sheds.  Good to see discipline still exists as those at the top were all addressed as Sir. We  were  presented with a plaque to commemorate the event. We caught up again with the guys the next day at the Anzac March.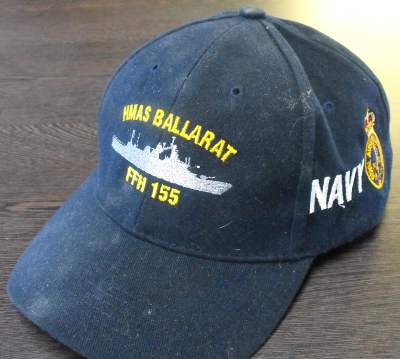 Footnote: Everyone asks where did you get that hat?  Yes like the song I must be showing my age.  Ron, one of our shed members has a son and grandson in the Navy and even he does not have one.  Must have been in the right place at the right time!  Anyway happy trails or anchors away or whatever the nautical term is.